What is hazardous cannabis waste?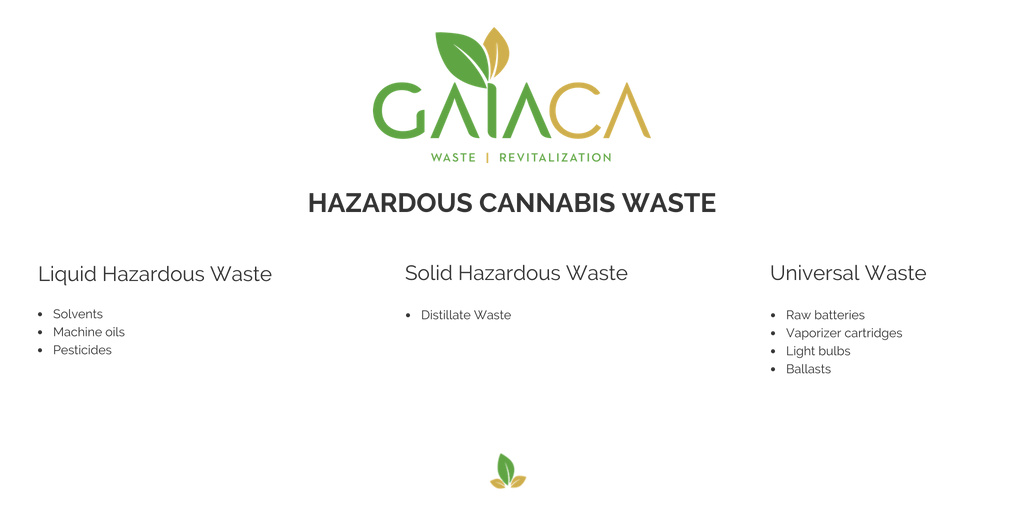 Best Tips And Methods To Handle Hazardous Cannabis Waste
Hazardous cannabis waste is categorized separately from non-hazardous cannabis waste, and furthermore, is treated differently than traditional hazardous waste in that it contains cannabis and its chemical constituents. GAIACA is not only an EPA-registered hazardous waste transporter and Bureau of Cannabis Control licensed Type-11 cannabis distributor, GAIACA provides cannabis waste profiling services to ensure that you are compliantly handling all of your cannabis waste streams.
GAIACA can assist all types of cannabis operators with necessary duties such as hazardous waste management program development, generator identification and registration, waste profiling, and disposal. GAIACA will ensure that all hazardous cannabis waste is properly handled, stored, transported, documented, and disposed of with respect to the Federal, State, and local government.
Once your cannabis waste streams have been identified as hazardous cannabis waste, there are some best practices that should be employed by the operator. We've put together a simple graphic, illustrating the basics of responsible hazardous cannabis waste management.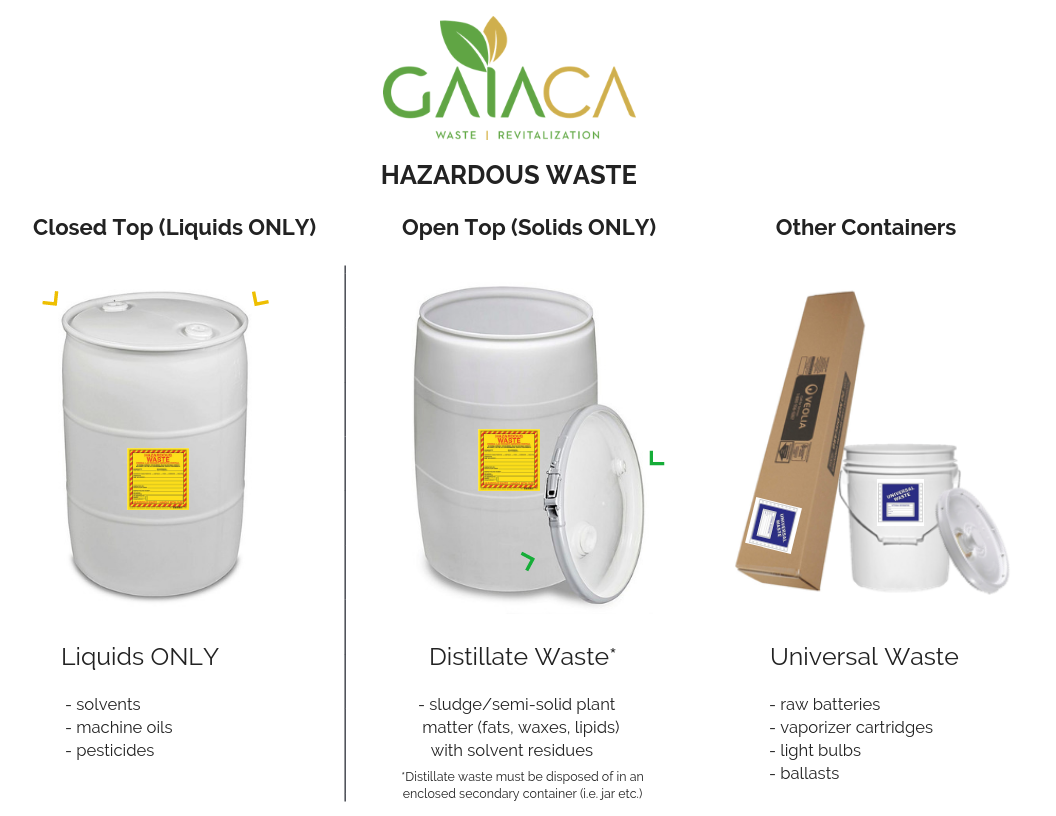 As far as hazardous cannabis waste management, there are a couple of essential criteria you should be sure to meet.
1. Operators that generate hazardous waste are required to register with the Environmental Protection Agency (EPA) to obtain either a State EPA ID Number or a Federal EPA ID Number depending upon the type and quantity of waste they generate. Temporary EPA ID numbers can be granted to operators that generate small, inconsistent quantities of hazardous waste. The EPA has certain rules and regulations specific to the type of generator, pertaining to the accumulation, storage, and handling of hazardous waste.
(If you have specific questions, e-mail us directly here)
2. Hazardous waste must be transported by an EPA-registered entity and disposed of at a permitted hazardous waste treatment, storage, and disposal facility (TSDF).  The 'cradle-to-grave' concept requires operators to notify the EPA when disposing of hazardous waste via a Uniform Hazardous Waste Manifest.
If you have any questions about hazardous cannabis waste management, please don't hesitate to contact us directly for a consultation.