Cannabis cultivation and manufacturing is the fastest growing industry in California, projected to grow into a $6.5 billion market by 2020. But for every production site in the state, marijuana byproduct accumulates rapidly, posing an environmental and compliancy dilemma for thousands of companies. The transportation and disposal of cannabis waste requires specialized infrastructure, licensing and compliance with regulatory agencies, as well as the expertise and resources to manage vast quantities of restricted, hazardous material, all while adhering to environmental protection standards.
A new Monterey County-based organization called GAIACA's name derived from the word "Gaia", meaning the holistic protection of Mother Earth, is California's first and only full-service waste disposal service specializing in cannabis byproduct management and disposal.
GAIACA is headed by entrepreneur Garrett Rodewald, whose career background in environmental management and hazardous waste mitigation helped him to identify a hole in the newly legalized industry. With the insights of an associate partner who has consulted for numerous cannabis dispensaries and manufacturers, Rodewald was able to acquire a strong framework for the industry's needs and best practices for comprehensive disposal strategy.
Time in and timeout, numerous clients in the cannabis industry have no idea of how to address their waste disposal needs, they feel that there's no solution, he says. After hearing that for about the tenth time, and researching the market for disposal, I thought we can be that solution.
GAIACA's services include initial consultation for new clients waste management needs, which allows GAIACA to develop a customized, best-fit service. The materials the company specializes in transporting and disposing of fit primarily into two categories first, organic plant matter resulting from cultivation, culinary uses, and expired dispensary goods. And secondly, byproduct from cannabis oil manufacturing and distillation processes, sometimes requiring butane and other solvents, which constitute a more toxic variety of waste.
While the leaf trim, which accumulates in massive quantity at countless cultivation sites, isn't necessarily toxic the way oil manufactured byproduct is, it still poses a host of problems, Rodewald states. There is the issue of people attempting to raid byproduct left on site or in trash receptacles on the street. And there's also the issue of children accidentally coming into contact with discarded material. While it's not hazardous from a chemical perspective, it is hazardous in a social context, therefore managing cannabis waste of all varieties in a professional manner is of paramount importance.
Additionally, while organic plant matter as a byproduct may not be qualitatively toxic initially, depending on its storage conditions, that waste can become moldy creating a brand new biohazard.
It's for reasons such as these that GAIACA waste management treats all waste transport manifests as toxic material, which establishes a high-caliber of service during every transaction, he says.
Through a third-party partnership, all waste materials are analyzed by a testing laboratory and categorized for appropriate storage and revitalization and/or disposal.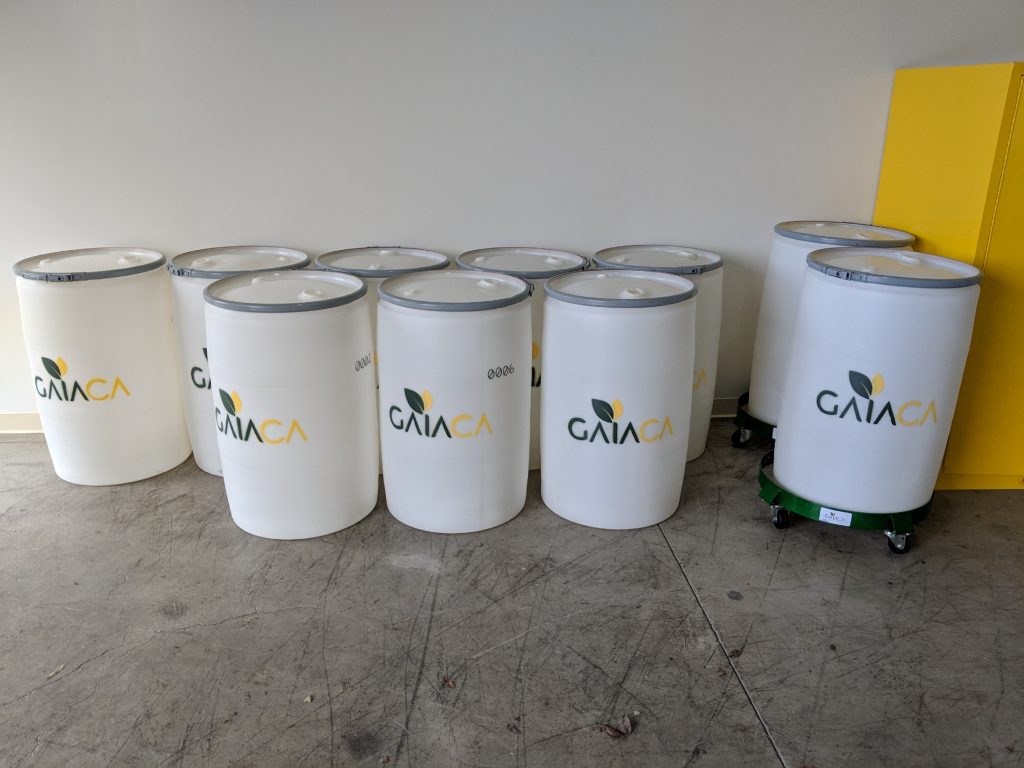 GAIACA provides their clients with safety-sealed barrels that can be filled with organic byproduct, food waste, or expired goods and then have the barrels picked up weekly or at a frequency that fits their client's needs using specialty transport vans equipped with security cameras.
GAIACA barrels feature anti-tampering seals, a track-and-trace monitoring system, a waste manifest, plus identification number for each transport. Upon arrival at the GAIACA facility in Monterey County, the barrels are re-weighed and receipt for verification by local government agencies is submitted.
The GAIACA disposal process:
All materials managed by GAIACA are transported and stored using high-grade plastic container drums. Once the materials record and receipt have been input into a computer system, the team initiates the neutralization and breakdown process. The technique is a proprietary fermentation method utilizes living microbes that flourish in anaerobic, acidic environments. The waste matter is mixed with various non-cannabis material that attracts certain bacterial strains, jump-starting a two-week neutralization process that ultimately results in healthy, ready-to-use soil.
The process is distinctly different than composting, Rodewald says. Composting takes a significantly longer time to break down organic matter and results in the excretion of large amounts of Carbon dioxide and noxious odors, which are very harmful to the environment. The GAIACA fermentation technique does not produce these levels of CO2, nor releases harsh odors, and yields a much better turn-around time, rendering it neutral and ready to be put back into the earth.
In an effort to establish productive community relationships, GAIACA plans to offer city and county offices open access to neutralized soil for landscaping or garden purposes. GAIACA has also extended the same offer to university garden and research programs for use and/or testing.
Licensing:
At GAIACA, state and regional compliance is the name of the game. The organization possesses all appropriate licensing for cannabis transportation, processing and management and actively works with city and county staff to lead the target on legal compliancy developments. It is important for prospective clients to know that traditional waste facilities are not licensed to manage any cannabis materials, and by federal law distributing cannabis materials, waste or otherwise, can results in federal action and/or municipal penalization.
Waste offset:
Data has shown that quantities of byproduct waste is much larger than anyone has anticipated. With the average rate of 128.6 square feet of cultivation grow yielding approximately 8.4 pounds of waste, a single 22,000 SF cultivation site will produce an estimated 1,437 pounds of waste. Assuming the cultivation facility achieves seven yields annually, the operation will likely produce approximately 10,000 pounds of cannabis byproduct waste each year, according to 2010 data from the RAND Drug Policy Research Center.
If you include food waste, oil and vape pen manufacturing byproducts, this number is exponentially larger. Unfortunately, the industry has lacked a management organization that operates by environmentally-friendly standards for disposal and in full compliance with regional law.
GAIACA is launching its services for clients in jurisdictions ranging from Sacramento to San Luis Obispo but plans to scale statewide and nationally as needed.
As the framework for legally compliant production takes shape in California, all cannabis organizations will have to address their byproduct and waste management needs.
It's our aim to help them carry that out in a way that's easy to set up, integrates seamlessly into their corporate structure, and protects the Earth.
Data quote: According to market research, for every pound of cannabis goods produced, approximately one pound of byproduct will require disposal management services.
Identified Market: 
The majority of cannabis businesses possess no outlet for byproduct disposal
Byproduct accumulates posing an environmental and public health risk
GAIACA service addresses newly proposed regulations requiring that all waste must be tested and categorized