Hiring GAIACA as your full-service cannabis waste management provider is an easy choice, but we know you'll need more than just our word on that matter.
Cannabis Waste Management Provider: 5 Benefits Of Hiring GAIACA
Being compliant with State regulations, and local ordinances lay the foundation of the cannabis industry. Cultivators, manufacturers, distributors, retailers, and testing laboratories all must comply and set a positive example as we usher this industry into the 21st century (and hopefully Federal legalization in the future!). To help you do what YOU do best, we're here to be your full-service cannabis waste management provider– from start to finish. We've included 5 benefits of starting a working and growing relationship together.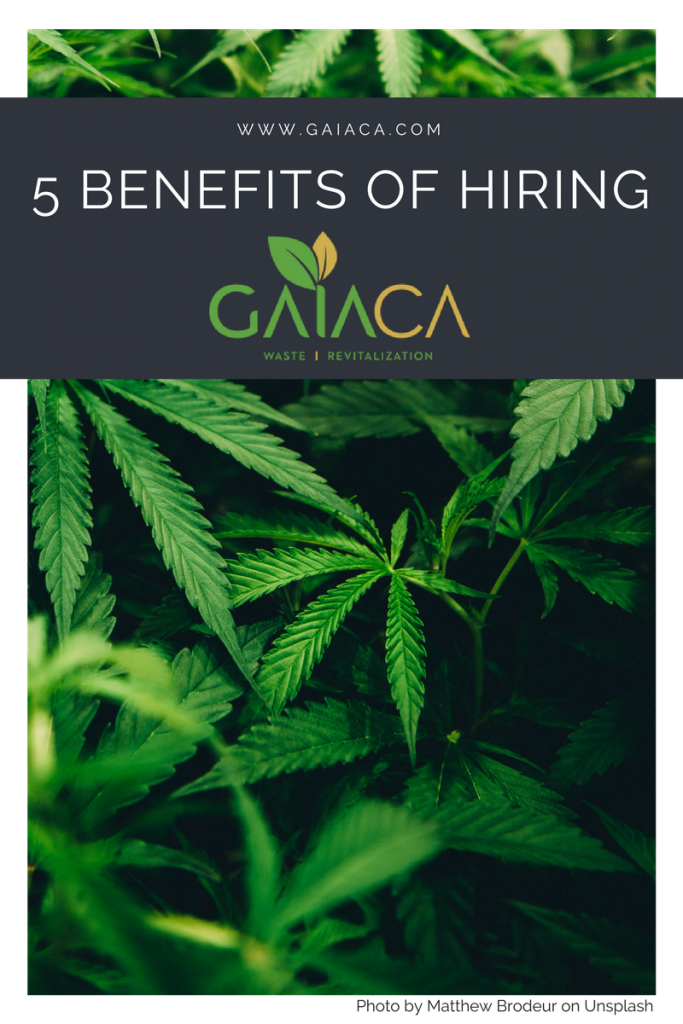 Customer Service
At GAIACA, we pride ourselves on our exceptional customer service and compliance success. All of our current clients are compliant with State regulations and local ordinances and we're proud that we can say that. We recruit team members who are friendly, professional, and knowledgeable; our technicians are all distinguishable by their GAIACA uniforms and friendly smiles. We love engaging with and learning from our clients.
Attention to Detail
Whether it is innocuous soil or hazardous solvent waste, we approach all streams of cannabis waste the same, with the utmost attention to detail. This includes proper assessment, handling, manifesting and final disposal. We understand all components of our clients' waste through testing and classification and will assist the client in achieving compliance through proper profile creations per State and Federal regulations.
Flexibility
We offer two cannabis waste management service options: a la carte and a monthly subscription. We work with you to see what your needs are now and as you grow. We happily cater our waste management plans and pivot as you pivot. Transparency and communication are important to us, and with those two elements, flexibility is a piece of cake!
Team Experience
Our team has a collective wealth of experience. From farming, agriculture, waste management, environmental consulting, commercial real estate development, economics, and trade, our experiences only aid you and us as regulations continue to evolve and we all strive to grow together.
Peace of Mind
Cannabis waste compliance should be the least of your worries. This is what we do!
Let us give you peace of mind…
[metaslider id=692]
As always, feel free to contact us directly at info@www.gaiaca.com or via our website forms. We'd love to hear from you and welcome questions, concerns, and feedback.