As cannabis is a Federally Controlled Substance, it is within each individual state to determine state statute and regulation related to medical and adult-use cannabis. As one could imagine, state-by-state cannabis conditions vary from legalized medical marijuana, legalized adult-use and medical marijuana, and moratoriums on marijuana consumption. To add an additional layer of complexity to the cannabis regulatory environment, the variance in state and local regulations is in most cases, drastically different. Here are the basics of the cannabis industry in the US.
The cannabis industry in the US is a rapidly growing industry.
As of February 2019, the numbers are as follows:
Ten states and Washington, DC, have now legalized marijuana for recreational use for adults over 21.
33 states have legalized medical marijuana.
This interactive map of cannabis legality by state, via DISA Global Solutions, is a great resource to consult if you're wondering what the legal status of cannabis is per state, what is legal (i.e. medical vs. adult-use) if cannabis has been decriminalized, and what the state laws are. We've included a screenshot for your reference. Certainly, visit their page and check it out!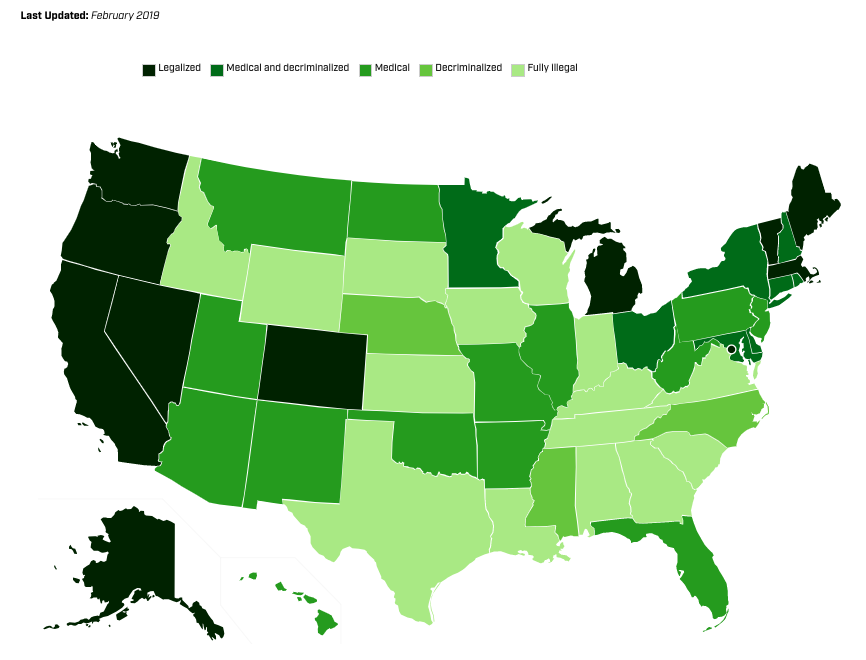 On the topic of decriminalization, as seen in recent news, we'd be remiss not to highlight that our state (but more specifically, the City of San Francisco) has been thrown into the national spotlight by news outlets such as NPR, because of San Francisco officials' plans to expunge more than 9,000 marijuana convictions dating back to 1975.  Several Californian cities have taken on the task/challenge of expunging cannabis-related records, but San Francisco is the frontrunner. According to NPR,
"It was the morally right thing to do," San Francisco District Attorney George Gascón told the Los Angeles Times. "If you have a felony conviction, you are automatically excluded in so many ways from participating in your community."

Gascón said his office would expunge 9,362 felony and misdemeanor cases. That includes 1,230 his office had already cleared. Before the city started to comb through records to find those eligible to be cleared, only 23 people had petitioned the city to do something about their convictions, NPR reported last year. That's because the process was tedious, Gascón told NPR's Ari Shapiro.
This is refreshing, as those most affected by the War on Drugs are primarily the disenfranchised and people of color. Petitioning the court, when you've already been targeted by the system is onerous and expensive.
The evolution of cannabis in the United States may not be ideal, but we're proceeding at a brisk pace all things considered. Be sure to follow our blog to stay in the know about industry updates, regulations, events, health & safety and more!