What do you think of when you hear the term "cannabis waste"? You're likely thinking about plant matter and byproducts like leaves, stalks, stems, and flowers. We've found that when we speak about cannabis waste, this is a common misconception. We've found that frequently the terms, "cannabis waste" and "cannabis byproduct" are confused and used interchangeably.
The proposed text of regulations released by the Bureau of Cannabis Control (BCC) define "cannabis waste" as,
waste that is not hazardous waste, as defined in Public Resources Code section 40141, that contains cannabis and that has been made unusable and unrecognizable in the manner prescribed in sections 5054 and 5055 of this division.
By definition, cannabis waste must be rendered unusable and unrecognizable. Unrendered "waste" is still a cannabis byproduct or product.
GAIACA is a licensed cannabis waste management service. We take cannabis byproduct and turn it into waste. The proposed regulations use "cannabis byproduct" and "cannabis waste" interchangeably. There should be clarification on these points because the byproduct produced across industry verticals vary extremely and should also be handled accordingly. Short of composting on-site for cannabis cultivators, other industry verticals will need to safely dispose of their product, resulting in cannabis waste post-hauling.
We've outlined streams of cannabis byproduct below:
Streams of Cannabis Byproduct by Industry Vertical
Cannabis byproduct comes in innumerable forms. Streams are created by all industry stakeholders: cultivators, manufacturers, retailers, distributors and testing labs.
Cultivation
Cannabis cultivation byproduct is the most common conception of cannabis byproduct.
Leaves
Stalks
Stems
Flowers
Soil
Root Balls
Manufacturing
Cannabis manufacturing byproduct runs the gamut of post-extraction plants to manufactured products.
Post-extraction cannabis plants/flowers
Failed edible materials
Oils, waxes
Ancillary manufactured waste
One particularly disconcerting issue with manufacturing byproduct is that to the layman, it is indistinguishable from safe-to-consume materials and products. Post-extraction cannabis plants/flowers are highly toxic and contain butane, ethanol, and acetone. Failed edibles pose risks because of quality control issues, THC levels, and pesticides. Ancillary manufactured byproduct includes but isn't limited to wax paper, gloves, beakers–anything that has been in contact with cannabis.
Retail/Distribution
Retail goods also vary and are disposed of for a variety of reasons.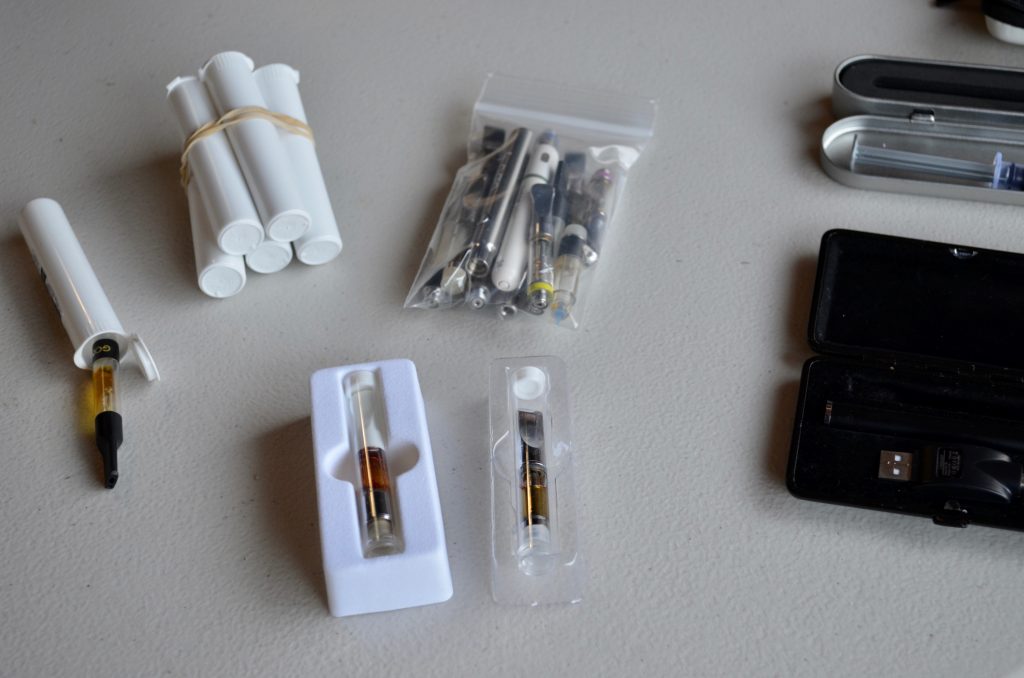 Display items
Returned items
Damaged items
Expired items
Disposal of retail items is particularly important. Typical trash enclosures for municipal waste is not sufficient. Typical trash enclosures are accessible by the public and pose a risk to public health and the environment.
Testing Labs
Testing labs receive all streams of cannabis byproduct for testing.
Flowers
Edibles
Oils
Waxes
Irresponsible disposal of cannabis byproduct poses a risk to public health and safety and to the environment. It is critical that cannabis byproduct is defined by industry vertical and that the appropriate cannabis disposal standard operating procedures are defined and enforced. Byproduct should be handled by licensed cannabis waste haulers who are licensed to transport cannabis products (i.e. cannabis distribution licensing). Standard waste hauling is not an option, as in most cases, what is being hauled off-site is not yet waste, it is an unrendered cannabis product.
As regulations are still pending, follow us to learn more about our take on the direction that regulations are heading. We recapped the BCC's Cannabis Advisory Committee Subcommittee meetings here.
The list that we've provided is by no means all-inclusive. If you have questions about other types of cannabis waste, please contact us directly at info@www.gaiaca.com and we'll happily discuss!